Creating Little Corners That Spark Joy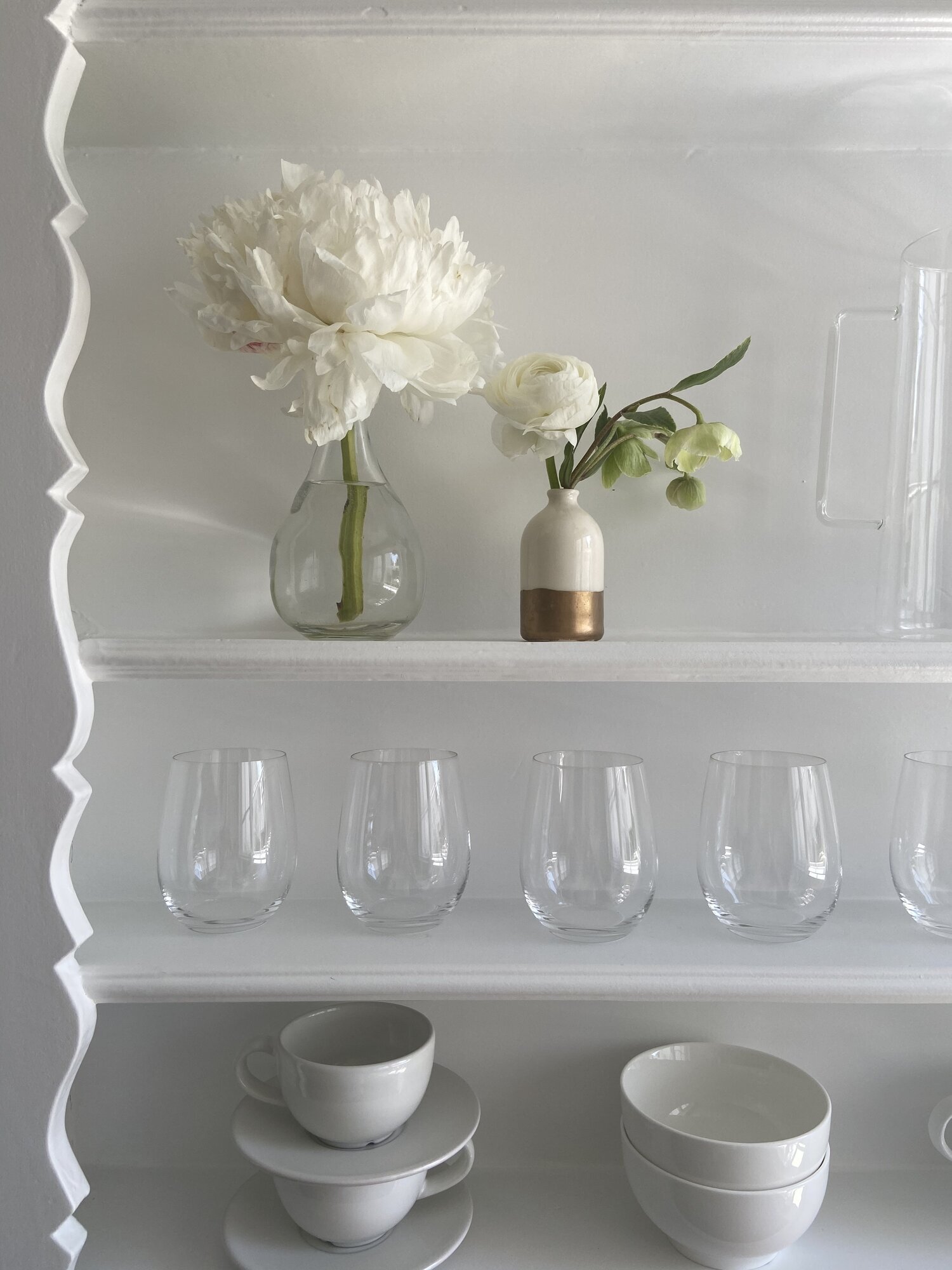 Today, we're going to go over some simple steps for creating a little corner in your home or life that will make you smile, reflect your spirit, and connect you with your essence. A beautiful, calming, physical environment fosters a relaxed and joyful state. And that, in turn, summons our higher self.
FIRST: CHOOSING THE SPACE
There are a few things to consider when choosing a space. Is it public? Is it a tucked away space just for you? Find any corner that you can make your own: a stairway landing, an entry way, a window sill. It's nice to find a space where you do something "ritualistic," like a place where you light candles, take a bath, meditate or pray. I find that the bathroom is a good place to create some good zen — or the kitchen, because we tend to spend a lot of time there. I favor kitchen shelves because they are eye level and any bit of beauty is immediately right in front of my face. And since I sometimes find kitchen work tedious (okay, all the time), I like to do what I can to enliven that area. There is no right or wrong place to create a spot that sparks joy. Is there any place where you wouldn't want to feel joy? Follow your heart!
SECOND: CLEAR THE SPACE
Often we can create a space that sparks joy by taking something away. Simplifying. I once helped a friend empty a cluttered hutch, leaving just one interesting item on each shelf. She was astounded at how much pleasure this gave her and how much more she appreciated that single item. It's totally fine to keep some items in reserve in a closet for a while and give each one a turn in the limelight. After a while, we stop seeing things when we become too accustomed to them. I do this regularly with seasonal items.
You've heard it a million times: Less is more. The hallway console is cluttered with keys, receipts, and water bottles. Schedule regular times to de-clutter. When the space you inhabit is open and organized, your creative juices will more freely flow.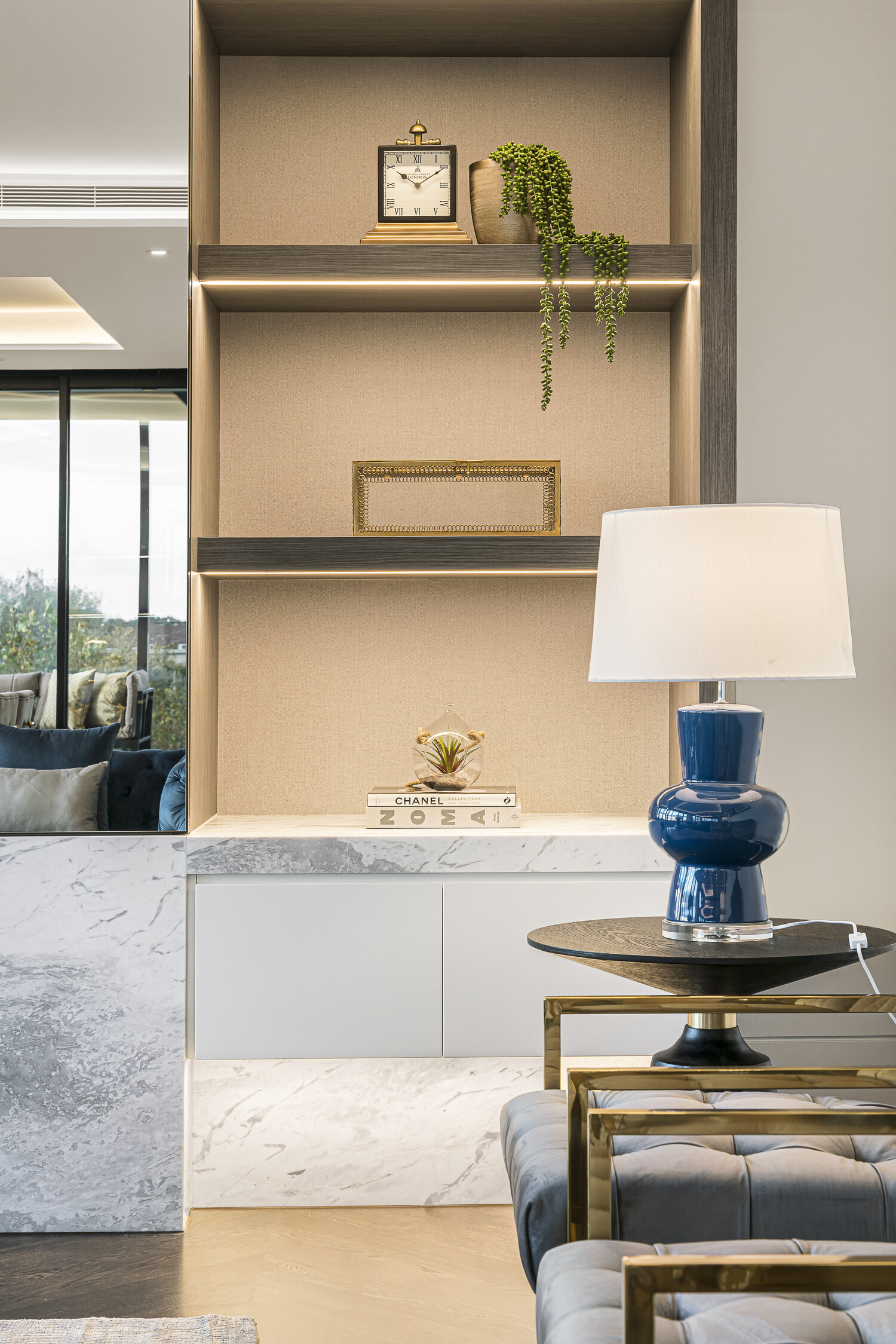 THIRD: CONSIDER THE PURPOSE
When contemplating a space, ask yourself: What is the best use of this space — functional or artistic? Is this a high traffic space that is best kept empty? Do I want to use this space to meditate, read or practice yoga? Do I want this to be a place to unwind? Do I want to showcase my creativity or relax and have a glass of wine or tea here — or both? Once you've decided how you want to use the space, you'll be better able to decide what the space needs. Could it use a throw blanket and soft pillows? Will I need a place to store reading glasses or a yoga mat? Answering these kinds of questions will naturally lead you toward knowing what will best go in that spot.
FOURTH: CHOOSE YOUR ITEMS!
Now that you know the purpose of the spot, and you've given some thought in general to the kinds of things you would like there… consider what you already own that might fit the bill. I just love when I re-discover something I already own and give it a home where it has a starring role and I can appreciate it. Try to limit the number of items you choose. Each item "speaks" to us and we don't want a cacophony of voices. You want to create a space that offers reprieve from the jangle of life.
These are some items that I love to use when creating a little corner: flowers in a vase – or just a vase, photos, cards, small framed art (I sometimes frame a special greeting card or calendar page), meaningful mementos that elicit fond memories, candles, essential oil or perfume bottle, blanket or throw, yoga mat, soft rug, a comfortable chair, trinkets, a mirror. Things like art supplies, a clever desk item, an interesting stone or shell can be soothing or engaging. Some favorite books or a current magazine spark joy for readers. Many people like to keep a prayer book, journal, or favorite quote in their special place.
FINALLY, PLACE ITEMS WITH INTENT!
If you're someone who gets analysis paralysis, don't worry. Forget all of the questions and just let intuition be your guide. Place things where they feel good to you. This isn't forever. Things can be moved. Usually, you will want to put larger items in the back and smaller ones in front. Consider grouping small items in a basket, tray or bowl. There really are no rules for your corner. You are the captain of your corner. Chose things you love. Imagine how you'll FEEL when you pass by your little corner. If you feel stymied and can't figure out what to do, look through some design magazines or home goods catalogs. Feel free to copy some of my ideas. Then, as you get used to it, try other items and jam with it to make it your own.