5 Clever Ways To Hide Your TV
As much as we love our Game of Thrones, the television's off-duty look is one we could totally do without. It's a design no-no that has long left us looking for ways to hide it. For those who share this problem, we've rounded up five of our favorite styling tricks to help work the TV better into your space.

1. Keep It Behind Closed Doors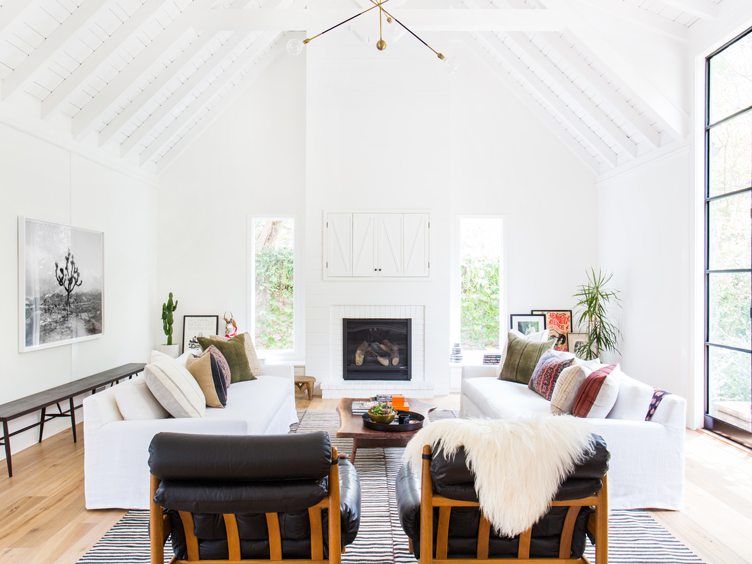 While hanging a TV over the mantle is one way to free up wall space, not many of us want to have a big black box in a spot that's such a major focal point. What do you do? Customize a space to tuck your TV, then mount bi-fold or sliding doors in front. If you think you'll miss the customary above-the-mantle art moment, consider using doors with a bit of architectural interest.
2. Paint It Black
Have your chameleon moment by painting the walls black behind the TV. It's a design equivalent of an "if you can't beat 'em, join 'em" solution. It is a great opportunity for an accent wall moment. Another option would be tucking your TV inside a black bookcase.
3. Make It A Part Of Your Gallery Wall
Hang it among art of a similar scale in a gallery wall format, and your TV can go from scene-stealer to just another face in the crowd. Side note: The more action and color you pack into your artwork, the more it will detract from your TV.
4. Shelf It
You don't have to make your TV stand out if it is built inside a shelf. Extra pros? A great way to make your TV less of a wall-stealer, you'll create a space for books, decor, or even a mini bar! The more items you pack in, the less noticeable your TV becomes.
5. Sliding Doors
An effective way to hide the entire TV is to install sliding panels or doors. It's a fun way to create an accented door, as well. Great to hide your liquor bar as well and create a secret wall element!
Credit: www.chairish.com